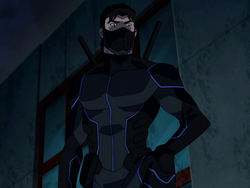 Darkwear consists of an assortment of equipment used on stealth missions by members of the Team and the Justice League, past and present. Unlike stealth-tech, Darkwear suits do not feature any recognizable symbols that can identify the wearer's superhero identity, which is why it is used on places where the Justice League is not allowed to intervene, so as to avoid international incidents.[1]
History
The technology was adopted sometime between 2016 and 2018.[1]
Paraphernalia
Darkwear is composed of three elements:
a formfitting, black jumpsuit
a mask that covers the lower face
high-tech lenses
Lenses interface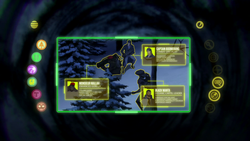 The lenses are the most used component of the set, as they can be worn in and out of costume. They provide the wearer with an optical User Interface that interconnects each logged user and provides them with an array of functions, including but not limited to:
Each user is identified on the UI with an icon, through which they can transfer selected data to another, by dragging and dropping files into their assigned icons. When activating the interface, the color of user's eyes changes to their interface's display color.[2]
Known users
Background information
The lenses worn by Darkwear users bear a striking resemblance to Hypnos 2.0, spy tech used by a espionage organization called Spyral, which also distorts the user's face with a swirl when captured by a camera.
References
Community content is available under
CC-BY-SA
unless otherwise noted.