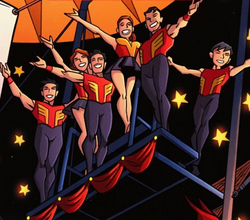 The Flying Graysons were a trapeze act group in Haly's Circus, consisting of Robin's family.
Dick Grayson was the youngest of the team, which consisted of his mother and father, his uncle and aunt, and his cousin John. They were the circus' most famous act, and people would come just to see them. Their prize stunt was a daring trapeze routine without the aid of a net. Dick did not participate, because his parents thought it was too dangerous for him.
Mob boss Zucco tried to extort protection money from Haly, who did not budge. In retaliation, Zucco's men sabotaged the trapeze rig. On April 1, 2006,[1] during the routine without the net, the rig broke, killing Dick's parents, aunt, and cousin. Only his uncle survived, but he was paralyzed for life. Dick Grayson left the circus life, and was adopted by Bruce Wayne.[2]
John Grayson (Dick's father)

Richard "Rick" Grayson (John's brother)

Mary Grayson (John's wife)

Karla Grayson (Richard's wife)

John Grayson

(Richard and Karla's son)

Richard "Dick" Grayson

(John and Mary's son)

[3]
Appearances
Edit
References
Edit
↑ Weisman, Greg (2012-01-04). Question #13907. Ask Greg. Retrieved 2012-01-04.
↑ Aureliani, Franco, Art Baltazar (w). Jones, Christopher (p). Davis, Dan, John Stanisci (i). Atkinson, Zac (col). Sienty, Dezi (let). Chadwick, Jim (ed). "Fears" Young Justice 6 (July 20, 2011), New York, NY: DC Comics
↑ Weisman, Greg (2011-10-31). Question #13600. Ask Greg. Retrieved 2011-11-01.
Community content is available under
CC-BY-SA
unless otherwise noted.