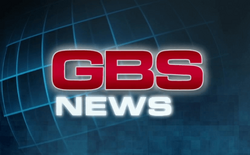 GBS (Galaxy Broadcasting System)[1] is a major American news outlet. Its reporters include Cat Grant[2] and Iris West-Allen.[3] Some time before 2016, G. Gordon Godfrey became a pundit, and used his program to defame aliens and the Justice League.[4]
Appearances
Background information
In the comics, GBS was the broadcasting division of Galaxy Communications, the company of Morgan Edge. After he bought the Daily Planet in the 1970s, Clark Kent became an anchorman for a time.
References
Community content is available under
CC-BY-SA
unless otherwise noted.