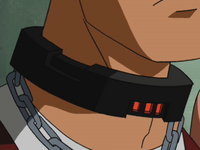 Inhibitor collars are special control collars designed to prevent the wearer from accessing their superhuman abilities, and also to apply electric shocks powerful enough to render a person unconscious. The collars must be pre-programed for an individual's specific abilities.[1]
For subjects with multiple powers, the collars are capable of selectively repressing or allowing individual abilities, and can be remotely switched between settings.[2] 
It is also possible to attach explosive charges that can be detonated from a distance on the collars.[2]
Instances of use
Inhibitor collars appear to be standard anti-meta-human law-enforcement devices, and are widely available to many parties:
Sightings
References