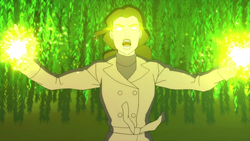 Magic and sorcery are the basis of mystical powers.[1] Magic can be considered a substance and sorcery the manipulation of that substance.[2]
Sorcery
Sorcery requires training and practice.[3][4] Genetic and personal affinity for sorcery are also helpful.[5] The use of magic also requires energy, usually provided by the user.[4]
According to Superboy, Zatanna's spells always leave behind a microscopic magical residue that looks slightly different than say Doctor Fate's or Thirteen's. Each magic user's residue is like a signature and Martian magic is basically a signature in different language.[6]
Magic can be channeled in a variety of ways:
Known users
See also
References