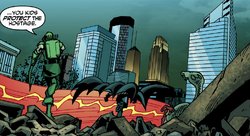 Minneapolis is the largest city in Minnesota.
History
2010
Kobra used an old new age template to perform a ritual on his brother. His location was discovered by Batman, Green Arrow, Flash and their protégés.[1]
Kobra used his brother's blood and a mystic dagger to enlarge a cobra. He sent it one a rampage through the city; it attacked people on Nicollet Mall and then escaped to Guthrie Theater. Batman, Green Arrow and Flash saved civilians and stopped the creature. Meanwhile, Kobra used the dagger to transform himself into a human-snake hybrid. His cultists were defeated by Kid Flash, Artemis and Robin, and Kobra's transformation was stopped when Artemis shot the dagger in his chest. Kobra vanished in the commotion, but Jason Burr emerged seemingly unharmed.[2]
Sightings
Background information
References
↑ Weisman, Greg, Kevin Hopps (w). Jones, Christopher (a). Atkinson, Zac (col). Sienty, Dezi (let). Chadwick, Jim (ed). "Common Denominators" Young Justice 16 (May 30, 2012), New York, NY: DC Comics
↑ Weisman, Greg, Kevin Hopps (w). Jones, Christopher (a). Atkinson, Zac (col). Sienty, Dezi (let). Chadwick, Jim (ed). "Uncommon Dominators" Young Justice 17 (June 20, 2012), New York, NY: DC Comics
External links