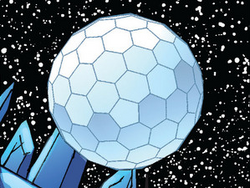 Orb-One is the assistant of Kylstar.
Orb-One informed the Collector of Worlds of the First Leader's retrieval of certain assets and gave him the go-ahead to proceed with his plans.[1]
Orb-One informed First Leader Kylstar that five containment cells had been broken, and his new property was loose.[2]
The Moon
December 1,

19:36

UCT

Orb-One translated for Kylstar when he addressed his captives.[3]
Orb-One addressed the captives by providing a translation for First Leader Kylstar. Who called them "weapons" that belong in the Weapons Room, where they will be reprogrammed for intelligent and independent thought. After the heroes made their escape, Orb-One teleported himself and the captives to an undetermined area in the vessel.[4]
Kylstar's Vessel
December 1,

22:52

UTC

Orb-One translated First Leader Kylstar's gratification towards the heroes' progress.[4]
Kylstar's Vessel
December 1,

23:17

UTC

While Kylstar fought the captives, Orb-One stood by.[5]
Kylstar's Vessel
December 1,

23:27

UTC

After the heroes thought they had defeated their captor, Orb-One insterceded. Kylstar broke free, and Orb-One summoned new orbs, this time finetuned to everyone's specific powers.[5]
Kylstar's Vessel
December 1,

23:32

UTC

Orb-One stood by as the other orbs subdued the heroes, only for the orbs to be destroyed as Miss Martian arrived. Orb-One announced he was translating a message from Kylstar.[6]
Kylstar's Vessel
December 1,

23:34

UTC

Orb-One delivered Kylstar's message: the First Leader was impressed.[6]
Kylstar's Vessel
December 1,

23:58

UTC

Orb-One explained Kylstar's reasons for kidnapping individuals to the assembled abductees, as other orbs translated into other languages. He also relayed Kylstar's promise to return them home if they desired, and his offer to join his quest. Several former captives accepted the offer; the rest were teleported away.[6]
Appearances
Edit
References
Edit
Community content is available under
CC-BY-SA
unless otherwise noted.