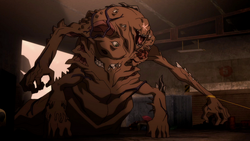 Project Rutabaga was a secret operation spearheaded by Klarion that consisted in activating the Meta-Gene of abducted teenagers by using magic and then putting them under mystic control. Some of these metas were shipped off to the Orphanage,[1] while others were trapped together inside a flesh monster.[2]
History
2018
It is unknown exactly when this project was initiated, but by September 8, 2018 it was already in motion. Moreover, it apparently was such a highly prioritized undertaking that Klarion could not part from it—even if only momentarily—to deal with an invading alien armada.[3]
Sightings
References
Community content is available under
CC-BY-SA
unless otherwise noted.