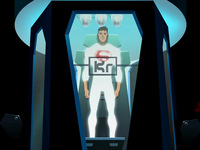 The solar suit is a garment designed by Cadmus.
Physical appearance
It was white with a red Superman S-shield on it.
Function
The suit was designed for Kryptonian users, supplying them with yellow sun radiation. It even worked underground, allowing the wearer access to their powers.[1] The suit was torn during the battle against Blockbuster.[2] Superboy continued to wear the damaged Solar suit for the next three days, while staying with Wally West.[3]
Know Users
Sightings
References
↑ Weisman, Greg (writer) & Oliva, Jay (director) (November 26, 2010). "Independence Day". Young Justice. Season 1. Episode 1. Cartoon Network.
↑ Weisman, Greg (writer) & Liu, Sam (director) (November 26, 2010). "Fireworks". (Part 2) Young Justice. Season 1. Episode 2. Cartoon Network.
↑ Hopps, Kevin, Greg Weisman (w). Norton, Mike (a). Sinclair, Alex (col). Lanham, Travis (let). McCalister, Michael, Scott Peterson (ed). "Stopover" Young Justice 0 (January 19, 2011), New York, NY: DC Comics