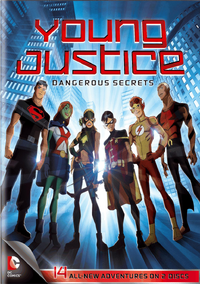 Young Justice: Dangerous Secrets, also known as Young Justice: Season One, Part Two, is a two-disk DVD set that contains the last fourteen episodes of season one of Young Justice. It hit the shelves on July 31, 2012.
Episodes
Disc 1:
Disc 2:
Extras
Disc 2 includes an "all-new digital comic": a slideshow of the cover and first three pages of "Wonderland".
Production background
Cover art for the DVD was produced by Jerome Moore in the style of Phil Bourassa. The original intention of Warner Bros Home Video was to use silhouettes of the Team, but Moore was directed to fully render the characters so that the artwork might be used in other marketing applications. In the end, Home Video decided to use the fully rendered artwork, but altered the art to give Artemis and Miss Martian toothy grins.[1]
See also
References
External links