The Young Justice Wiki is a Wiki intended to cover all aspects of the Young Justice TV series that debuted in 2010 as well as its tie-in comics. This Wiki contains extensive character biographies, episode recaps, articles about places, dates, etc., and provides an exhaustive coverage of trivia, in and out of universe references, and keeps track of the latest news about this franchise!
Trending articles
Popular categories
View full main page
Welcome to the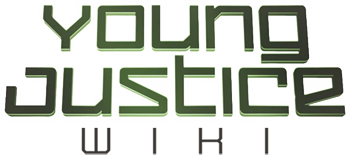 We are currently housing 1,514 articles and hosting 2,210 images since August 2010.
Warning: Spoilers are to be expected when browsing the wiki. Read at your own risk!
Copyrights
Young Justice and all characters, episode ideas, etc. are all registered trademarks of Warner Bros. Entertainment and DC Comics. The Young Justice Wiki is in no way affiliated with either company, and is purely for non-commercial and personal use. Anyone is free to use information from this site, as long as you do not use that information by plagiarism or use it illegally in any way that infringes on the trademark. If you do copy text, it is requested that you provide a link to the website or web page. The operation of this website is believed to fall under the United States "fair use" copyright laws. This is purely a "fan site," and does not pretend to be official in any way whatsoever.
Advertising
Advertising on Wikia is sold by Wikia Inc., and is not an endorsement of the products by Warner Bros., DC Comics, the Young Justice Wiki or its volunteers. To report an inappropriate advertisement, please contact Wikia Inc. directly using the
contact form
.