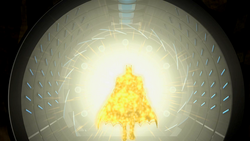 The Zeta-Beam a specific type of energy used for teleportation. This energy is channeled through special devices, such as Zeta-Tubes and platforms,[1] which are required at both ends of the journey.[2]
History
Early history
A Zeta-Beam accident originally brought Martian Manhunter from Mars to Earth.[3]
Another unrelated Zeta-Beam accident transported Adam Strange to Rann.[1]
2010
Kid Flash and the Team detected Zeta-Beam radiation traces at the location in Bialya where Sphere was "delivered" to the Light. However, the Sphere was actually delivered by boom tube.[4]
References